ADAM Quartet | Quartetto Adorno | Airis String Quartet | Akela Quartet | Akhtamar Quartet | Quatuor Akilone | Alinde Quartett | Amai Quartet | Animato Quartet | Antarja Quartet | Atenea Quartet | Belinfante Quartet | Chaos String Quartet | Desguin Kwartet | Quartetto Eos | Erinys Quartet | Fabrik Quartet | Quartet Gerhard | Quartetto Goldberg | Cuarteto Iberia | Quartetto Indaco | Kandinsky Quartet | Karski Quartet | Kleio Quartet | Malion Quartett | Medea String Quartet | String Quartet Meraki | Quatuor Mirages | Quatuor Mona | Moser String Quartet | Nerida Quartet | New Cretan Quartet | Protean Quartet | PuraCorda Ensemble | Skazka Kwartet | Sonoro Quartet | Viride Kwartet | Quatuor Wassily
ADAM Quartet, The Netherlands
With fresh eyes, the ADAM Quartet seeks to shine its light on the string quartet's repertoire. Graduated from the Conservatorium van Amsterdam in 2020, it is member of the Netherlands String Quartet Academy (NSKA), where it is supervised by artistic director Marc Danel and has received master classes from Eberhard Feltz, Pavel Fischer, Luc-Marie Aguera, Gary Hoffman and Daniel Rowland, among others.
Quartetto Adorno, Italy
Founded in 2015, it completed its studies at the Scuola di Musica di Fiesole and was the first Italian quartet to win the Third Prize, Audience Prize and Special Prize at the 2017 Premio Paolo Borciani International Competition. The name of the quartet is a tribute to philosopher Theodor W. Adorno who, at a time of musical and social decline, identified in chamber music a key to salvation for perpetuating a true human relationship, according to the values of respect and the yearning for perfection.
Airis String Quartet, Poland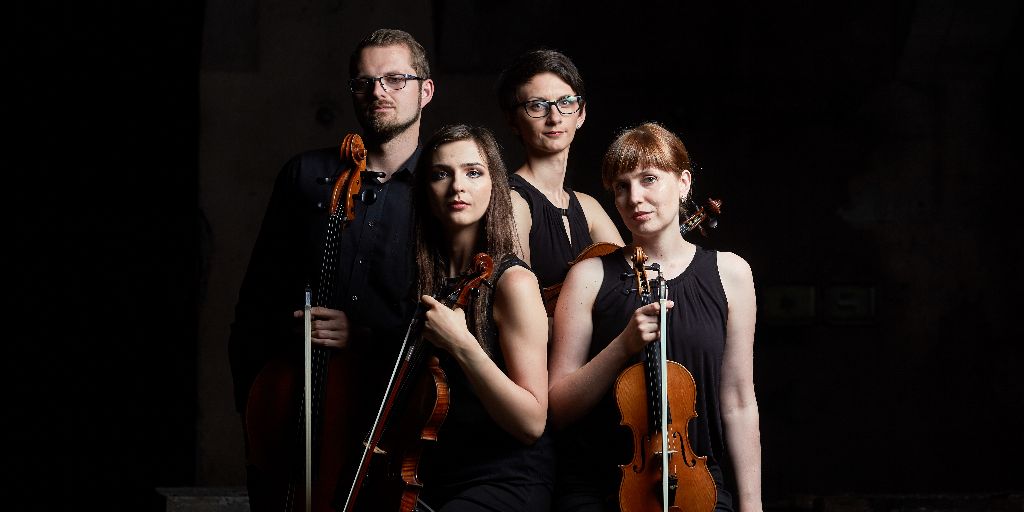 Founded in Cracow in 2008 to pour an untamed student passion into modern music, it has been actively performing for over 14 years and is a winner of numerous international competitions, scholarships and national art grants. The quartet's field of musical exploration has been contemporary Polish music with Krzysztof Penderecki in the lead, and world music literature of the 20th and 21st centuries.
AKELA Quartet, Denmark
Founded in 2019 at the Royal Danish Academy of Music, it has been performing quartet repertoire throughout Denmark with presence and curiosity, under the guidance of Professor Tim Frederiksen. An attentive and inspiring ensemble, it has organized and performed concerts of very different character – from school concerts with singing and storytelling, concerts in retirement homes, to chamber music concerts in some of Denmark's largest halls.
Akhtamar Quartet, France
The quartet's name comes from the Armenian pieces by Komitas/Aslamazyan, which the ensemble has been playing regularly since their foundation. Formed in Brussels in 2014, it was one of the six quartets selected for the Paris Philharmonic's tremplins jeunes quatuors in 2016. Winner of numerous awards, it performs in concert halls and festivals all over Europe.
Quatuor Akilone, France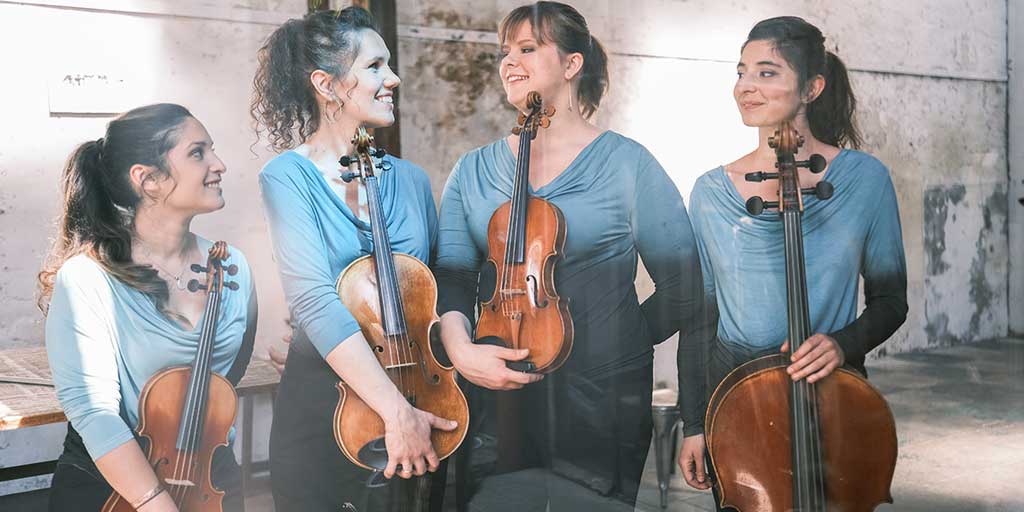 Quatuor Akilone is a human and musical adventure that began in 2011 in Paris. The musicians assert an authentic approach to their repertoire, historically informed and pursued with a resolutely spiritual vision. The meetings with Hatto Beyerle, Vladimir Mendelssohn, Johannes Meissl, Xavier Gagnepain, Jean Sulem, Patrick Juedt, the Quatuor Ebène and Mathieu Herzo have been sources of inspiration and support.
Alinde Quartett, Germany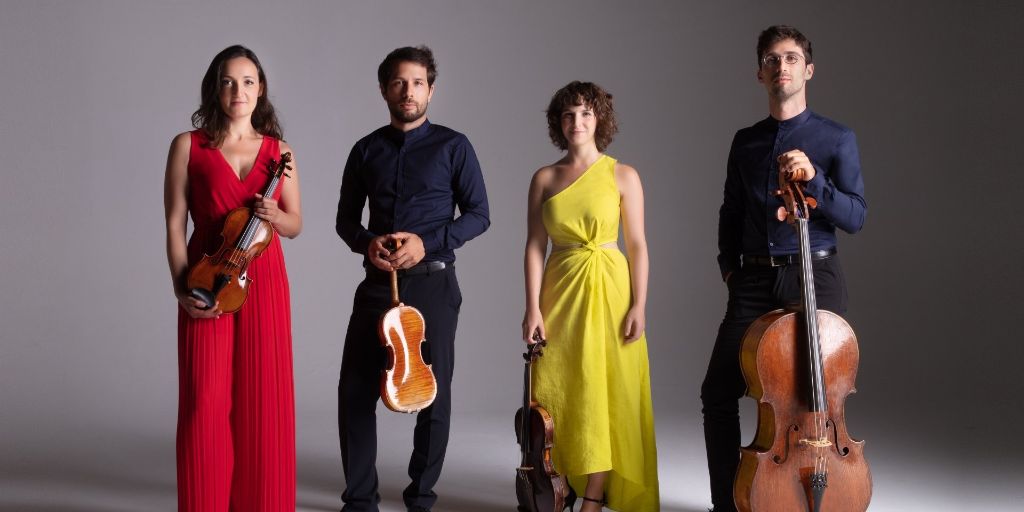 Awarded prizes at numerous international competitions, the quartet currently performs in halls all over Europe. In 2022-24 concert seasons, it performed at Elbphilharmonie, Kölner Philharmonie, Schleswig-Holstein Music Festival, Mecklenburg Vorpommern and Mozartfest Würzburg. Igniting a passion for chamber music and increasing understanding of it is indeed the quartet's main mission, pursued by organizing pedagogical projects.
Amai Quartet, Austria
Formed at the end of 2020 at the University for Music and Performing Arts in Vienna, the quartet won first prize and audience prize at the Pietro Marzani Quartet Competition in Rovereto, thanks to which it performs in the 2021/2022 and 2022/2023 seasons in Modena, Rivoli, Mestre and Rovereto, where it will have the opportunity to participate in the Settenovecento festival. Among the renowned festivals in which it has taken part there are Classiche Forme, Fortissimissimo Firenze Festival, Musica con Vista – Comitato Amur, SetteNovecento, Lingotto Musica, Pianodrom Tirana.
Animato Quartet, The Netherlands
Founded in 2013, its members have been praised for their passionate and spontaneous playing and powerful stage presence. The programmes contain a combination of classical music inspired by the string quartet repertoire and contemporary compositions, some of which have been composed especially for the ensemble. The quartet has performed in the Netherlands, Portugal, Germany, Norway and France.
Antarja Quartet, Poland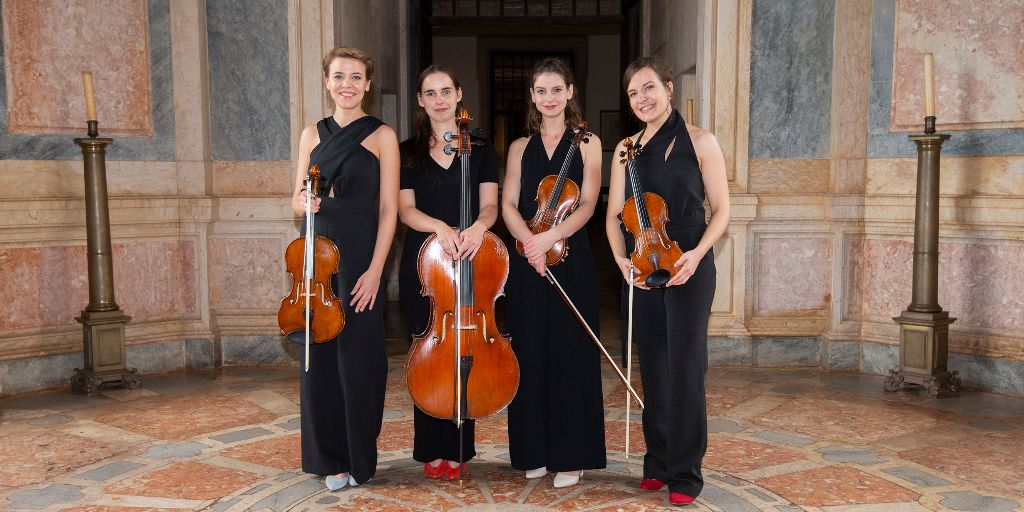 A dynamically developing young Polish quartet, their concert repertoire offers classical and contemporary pieces, including no shortage of premieres. The quartet's main goal is to promote Polish chamber music abroad. Formed in 2009, its members studied at the Academy of Music in Kraków and Poznań, and the quartetperformed over 100 concerts in its 11 years of activity.
Atenea Quartet, Spain
Formed in 2019, the quartet was trained by members of the Casals Quartet and musicians such as Heinz Holliger in the Swiss Chamber Academy, Heime Müller at the Biennale of String Quartets in Barcelona in 2020, and Donald Weilerstein in the International Chamber Music Campus in Germany. It is continuing its musical development at the Hochschule für Musik in Basel, where three of its members are pursuing Master Oficial programmes.
Belinfante Quartet, The Netherlands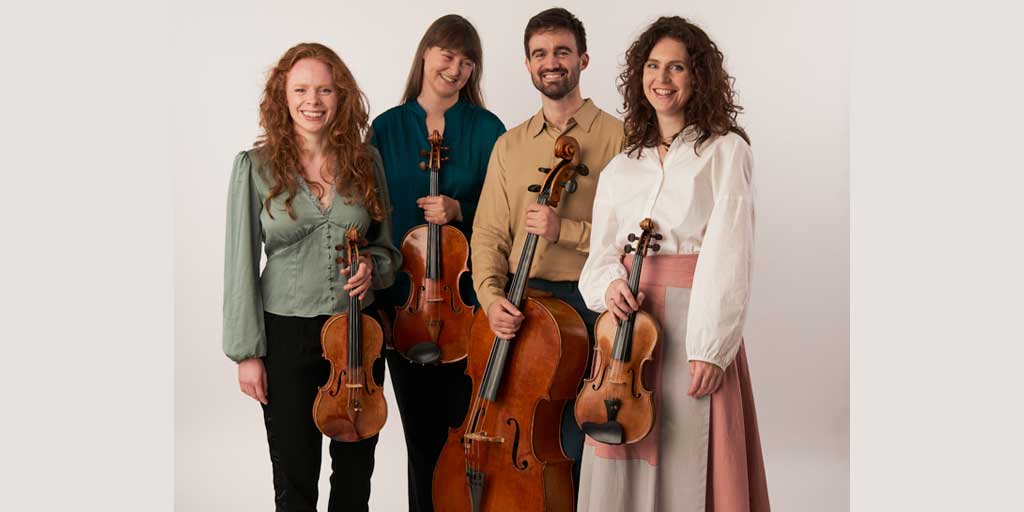 The quartet honors Frieda Belinfante, musician and first female artistic director and conductor in Europe. Formed in 2016, the quartet has performed in the Netherlands and throughout Europe. The ensemble explores the combination of fundamental works from the string quartet repertoire with lesser-known masterpieces. It is currently Quartet in Residence at the Netherlands String Quartet Academy in Amsterdam.
Chaos String Quartet, Austria
Following a path free of predefined standards, transcending all barriers and pushing all limits, is the motto of the quartet. Distinguished as "The most promising newcomer ensemble 2020" at the 65th Chamber Music Campus of Jeunesse Musicales International, it was invited to perform at the Heidelberger Streichquartettfest 2022. In 2019, it was selected for ECMAster (European Chamber Music Master) Programme and in 2020 won the XI Vittorio Rimbotti International Prize.
Desguin Kwartet, Belgium
Known for its versatility and interdisciplinary approach, it was born at the Royal Conservatory of Antwerp and is currently member of the ProQuartet Academy in Paris. Their quartet playing is strongly influenced by teachers from Alban Berg, Danel and Zemlinsky Quartet. In 2019 they became Artist in Residence of the SWUK Foundation in Belgium and in 2020 they won the SUPERNOVA Classics Competition, along with the audience prize.
Quartetto Eos, Italy
Winner of the 2018 Franco Abbiati Farulli Music Critics' Prize, it was born in 2016 in Rome and perfected its studies with Quartetto di Cremona at the Stauffer Academy, Cremona. It collaborates with musical institutions including Società del Quartetto di Milano, Istituzione Universitaria dei Concerti, Gioventù Musicale d'Italia. In 2019 it received a special mention in the National Competition for String Quartets Sergio Dragoni for which it performed at IIC Tirana in 2020.
Erinys Quartet, Finland
The quartet was formed in Helsinki (Finland) by an international group of students from the Sibelius Academy. In the summers of 2020 and 2021, the quartet was invited as an Emerging Artist Ensemble to the Mimir Chamber Music Festival in Forth Worth, Texas, where they performed internationally broadcast streamed concerts.
Fabrik Quartet, Germany
Founded in 2021 in Frankfurt am Main, it works intensively on contemporary repertoire and performs at various contemporary music festivals throughout Europe. It was awarded in international chamber music competitions in Germany and Spain, thanks to which they received a commission by Spanish composer Jose Luis Escrivà that they will perform in a concert series in Spain, in 2023. They have also won a professional CD recording with the German label Bad Homburger Schlosskonzert.
Quartet Gerhard, Spain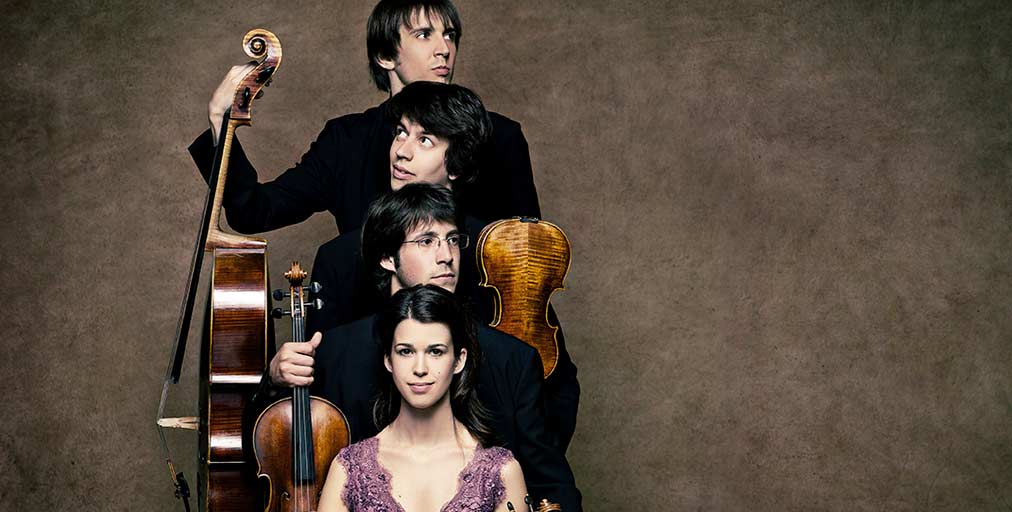 Characterized by a remarkable sensitivity for sound and an inner respect for music as the highest bond between human beings, its quartet's roots are to be found in Basel, Berlin and Madrid. Winners of numerous national and international competitions, their performances have been regularly broadcast by Radio Catalunya and RNE (Spain), NDR and SWR (Germany).
Quartetto Goldberg, Italy
Artist in residence at Fondazione Società dei Concerti di Milano for the 2022/2023 season, and at the Ticino Festival 2022, it is winner of the Special Jury Prize at the Marcello Pontillo 2022 Competition and of the Young talents of the Stauffer Academy scholarship for the 2020-2022 season. The quartet was invited by ProQuartet as one of the quartets in the Nuit du Quatuor 2022 in Paris.
Cuarteto Iberia, Spain
Born in 2017 in Madrid, its participation in the Boccherini Open Gold Festival in 2018 received great critical acclaim for their interpretation of Luigi Boccherini's work, giving impetus to an already promising career. They participated in masterclasses and festivals in Vienna, Salzburg, Munich, Lucerne, Weikersheim and Madrid, and in 2019 received a scholarship from Jeunesses Musicales International.
Quartetto Indaco, Italy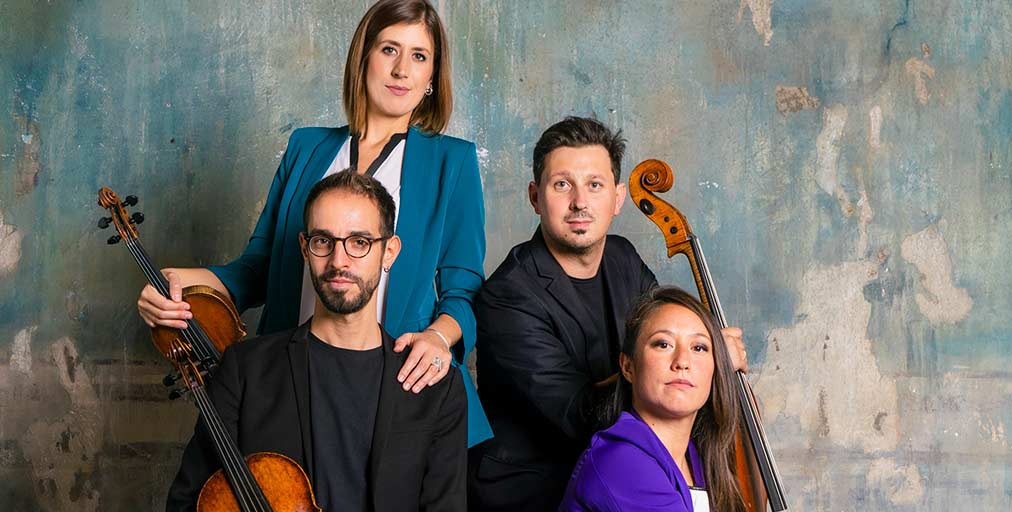 Described as "compact, full of polish and exuberance, a true revelation", it was born at Scuola di Musica di Fiesole in 2007. A finalist in the 2017 Premio Paolo Borciani, the quartet has won several awards throughout its career. It has been guest at prestigious festivals and musical institutions in Italy, including a concert at Palazzo del Quirinale in Rome and broadcast live on Rai Radio 3. It has performed in Germany, Switzerland, Ireland, Latvia, Sweden, Portugal and the Netherlands.
Kandinsky Quartet, Austria
Prize winner of the Boccherini Competition and Scholars of Jeunesse Musicales Germany and Villa Musica, it was founded in 2020 and is based in Vienna. Invited to festivals in France, Italy, Croatia and Austria, it recently joined Le Dimore del Quartetto and ProQuartet. It is artist in residence within the framework of the annual summer cycle ArbeiterInnenkonzerte in Vienna, including 10 concerts each season for both 2021 and 2022.
Karski Quartet, Belgium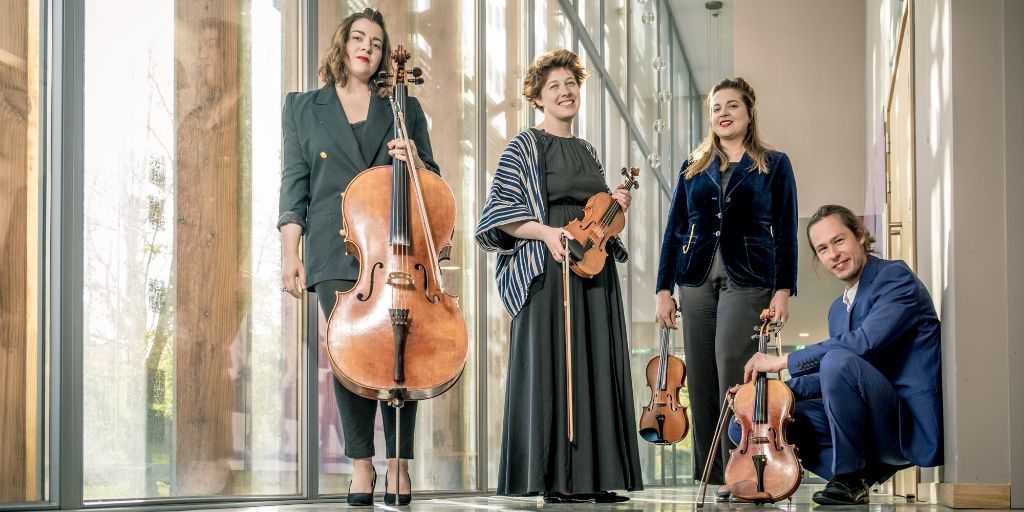 With recognition on the international music scene for its passionate interpretations of works ranging from Haydn to 21st century repertoire, it formed in Belgium in 2018 and performs in a wide range of venues throughout Europe. Highlights of the 2021/22 season include a debut recital at Flagey (Brussels), a performance at String Quartet Biennale Amsterdam, the premiere of a new CD album with music by Enescu, Ravel and Debussy, recorded with Philippe Graffin and Traces Festival Ensemble.
Kleio Quartet, United Kingdom
Described by Alina Ibragimova as "a wonderfully dedicated group of musicians who bring assuredness and freshness to everything they play", it was formed at the Seiji Ozawa International Chamber Academy in 2019. They have performed in major international venues such as the Wigmore Hall, Victoria Hall, Cadogan Hall, Philharmonie de Paris, Musikverein, Royal Festival Hall, the DR Koncerthuset and many others.
Malion Quartett, Germany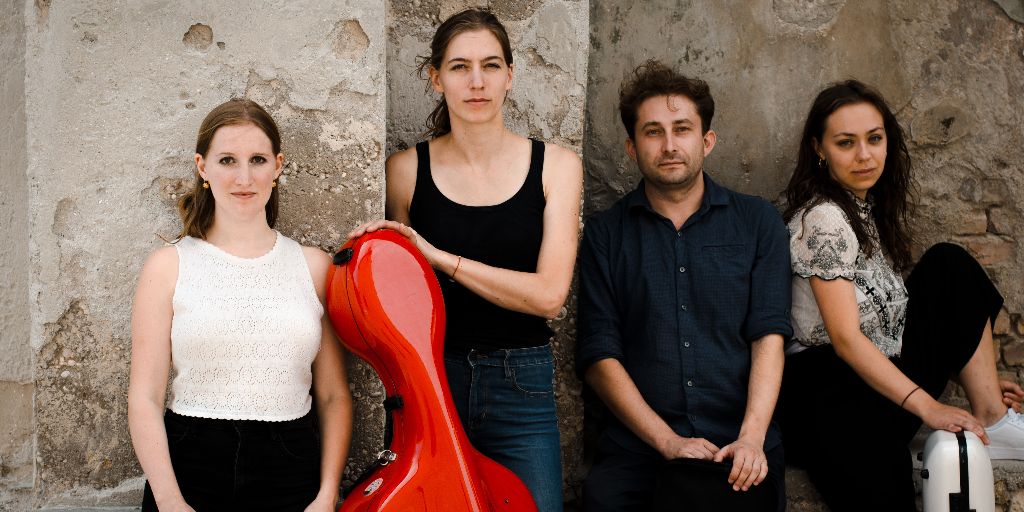 Considered one of the most versatile quartets of the new generation, it was founded in 2018 and became scholarship holders in the Foundation Villa Musica Rheinland-Pfalz. It won the Competition of the Polytechnic Society and received a Chamber Music Scholarship of the Friends and Fellows of the HfMDK Frankfurt. As finalists of the Deutscher Musikwettbewerb 2022 they were taken on as fellows of the competition's concert programme, in addition to receiving a special prize from the Deutsche Stiftung Musikleben.
Medea String Quartet, United Kingdom
A newly formed ensemble, it is composed of current students and graduates of the Royal College of Music. Drawn together from a young age, Clara Mezzanatto and Ada Guarneri performed for many years in the same string quartet in Italy. Based in London, they officially formed the Medea String Quartet in 2020 with English violist Joanna Patrick and violinist Mira Marton under the aegis of Simon Rowland-Jones.
String Quartet Meraki, Serbia
Founded in 2020, it has held a large number of performances in Serbia and abroad. It participated at the Chamber music Festival in Novi Sad, as part of the concert Young talents. The quartet was awarded by the Department of Chamber Music, Faculty of Music in Belgrade, with a concert within the FMU and Guarnerius awards cycle, which was held at the Guarnerius Center for Fine Arts in November 2021.
Quatuor Mirages, France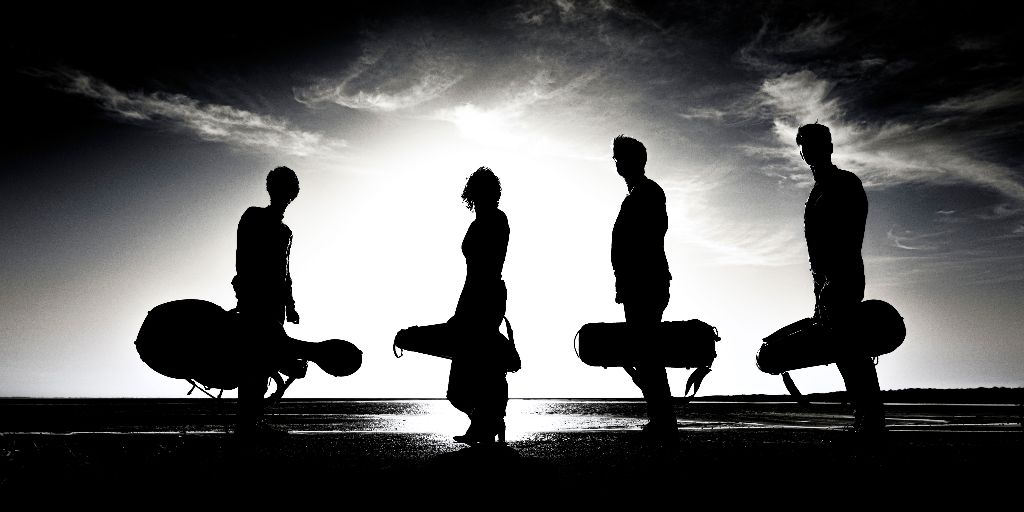 Founded in 2020 in Paris, it won first prize at the Via Nova competition and the Prix des cordes en Ballade at the 34th FNAPEC European Ensemble Music Competition. Their eclectic program ranges from Haydn, Brahms, Mendelssohn, Debussy, to Dieter Schnebel. In 2022, it was invited by the Diotima Quartet to the chamber music residency of the Académie D'Aix en Provence and it is one of the chamber music groups selected to participate in the Verbier Festival Academy.
Quatuor Mona, France
Born from a diverse group of young women with Latvian, French, American and Korean backgrounds, they have created their own musical language. "A convincing style and plenty of vitality: do not lose sight of the Monas" said Bertrand Boissard of Diapason about them. Founded in 2018 at the Conservatoire National Supérieur de Musique de Paris, they began their musical journey at the Escuela Superior Reina Sofia in Madrid, the Conservatoire National Supérieur de Paris.
Moser String Quartet, Switzerland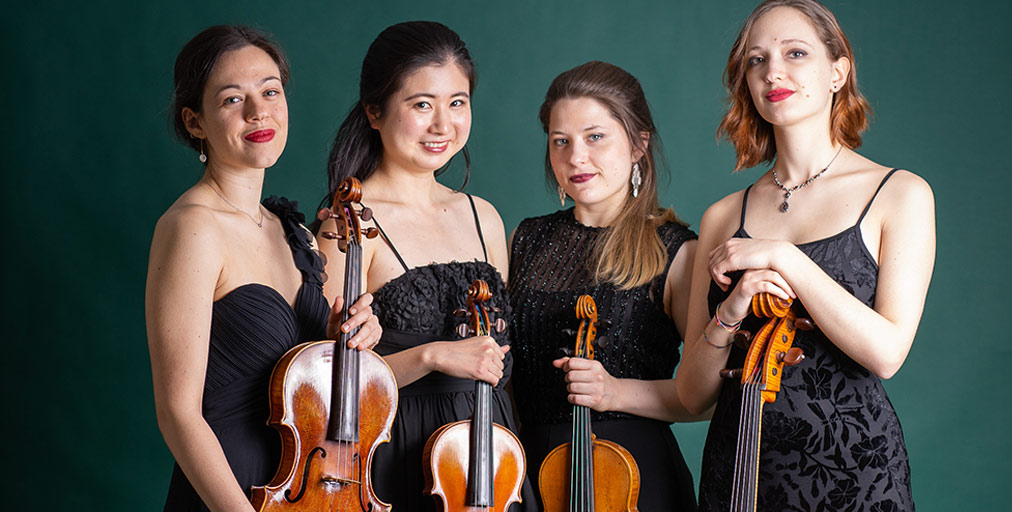 Born in 2020, it is based in Basel (Switzerland) and was awarded 1st Prize ex aequo in the international competition Gran Premi Musical Lauredià (Andorra) and 2nd Prize ex aequo in Orpheus Swiss Chamber Music Competition (Switzerland). Their perseverance and enthusiasm have led them to recently debut at Stadtcasino in Basel (Switzerland), to perform with clarinetist Pablo Barragán in Mantua (Italy) and to play "We are ___" by Verena Weinmann composed specifically for them.
Nerida Quartet, Germany and Switzerland
Passion that overcomes boundaries: the four musicians of the Nerida Quartet uncompromisingly explore music in their work, seeking authenticity and expressiveness beyond convention. The name "Nerida", inspired by the Nereids of Greek mythology, symbolizes water as a strong yet flowing element that can always take on new manifestations. The quartet gathers roots from Switzerland, Italy, Bulgaria, Germany, New Zealand and Korea.
New Cretan Quartet, Greece
Founded in 2018 in the Municipal Music Conservatory of Heraklion in Crete, the ensemble has performed in numerous concerts all around Greece, as well as a concert series in Cyprus. It has recorded quartets by Ludwig van Beethoven, Mikis Theodorakis and Aristeides Antonakakis with Hans Kipfer in December 2022, laying the groundwork for a recording and concert cycle with underrepresented Greek composers.
Protean Quartet, Spain
Formed in 2018 in Basel, moved by curiosity and passion for the "Historically Informed Performance" movement, it is mainly focused on the rediscovery of the stylistic, rhetorical and technical aspect of the musical language from the Baroque to Classical and Romantic period. The deep interest in the combination of authenticity and meaningfulness, aims to establish a fresher musical speech style.
PuraCorda Ensemble, The Netherlands
Formed in early 2020 out of love and dedication to gut strings, it dedicated itself to the historical interpretation of 19th and 20th century repertoire. Based in Amsterdam, the members are all Mediterranean: half from the Balearic Islands, the other half from Greece. Given the lack of importance to the figure of the female composer in the history of music, they always include at least one work by a woman in all their programs.
Skazka Kwartet, The Netherlands
Founded in 2020 in the Netherlands, they are winners of the 2022 Storioni Competition and will make their debut in a few major Dutch venues this season. In season 2022/23 it will appear in venues such as TivoliVredenburg, De Doelen, and at the Storioni Festival 2023. Past engagements include a performance for Entrée, the Concertgebouw's youth association, a live-stream from TivoliVredenburg and appearances at the Delft Fringe and Aurora Festivals.
Sonoro Quartet, Belgium – Ireland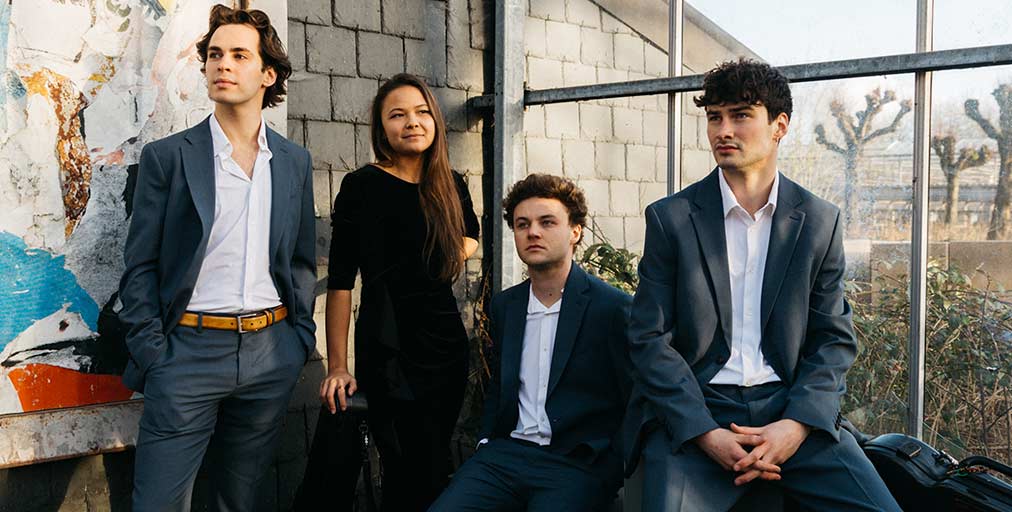 Founded in 2019, they play over 40 concerts a year in countries such as Belgium, the Netherlands, Switzerland, Germany, Hungary and Ireland, and it is one of the most active string quartets in Belgium. Their repertoire ranges from classical masterpieces to contemporary composers. They have been invited to play at festivals such as the Midis-Minimes Festival, The Young Generation Bozar, B-Classic, Storioni Festival, West Cork Chamber Music Festival, Rotterdam Chamber Music Society among others.
Viride Kwartet, the Netherlands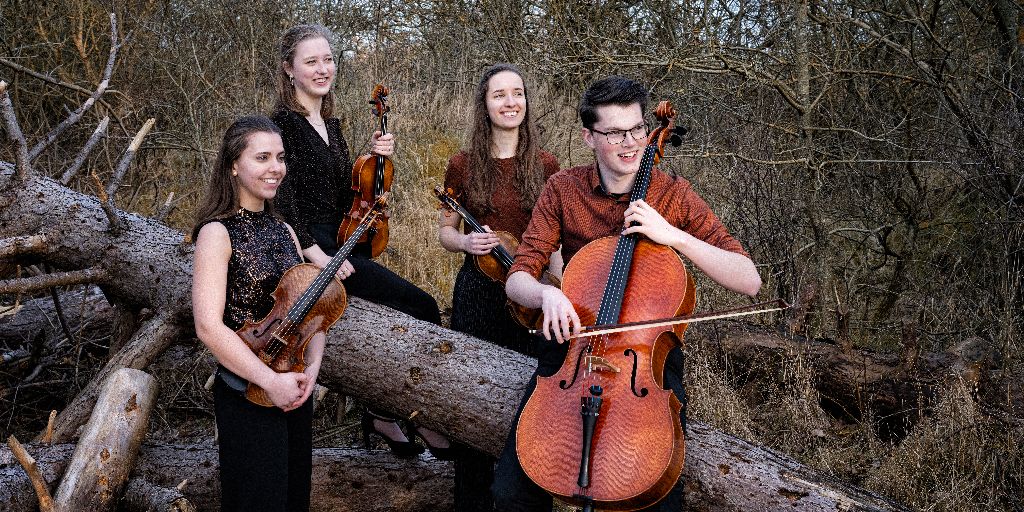 Viride Quartet was formed at the Royal Conservatory of The Hague's school for young talent and started playing together as a quartet in 2017. It has participated in several international festivals and courses such as the Orlando Festival, Zeister Muziekdagen, Festival Jong Talent Schiermonnikoog, Crans Montana Classics (Switzerland), Seminario Internacional Ciudad de Guadix (Spain) and Festival Residart (Italy).
Quatuor Wassily, France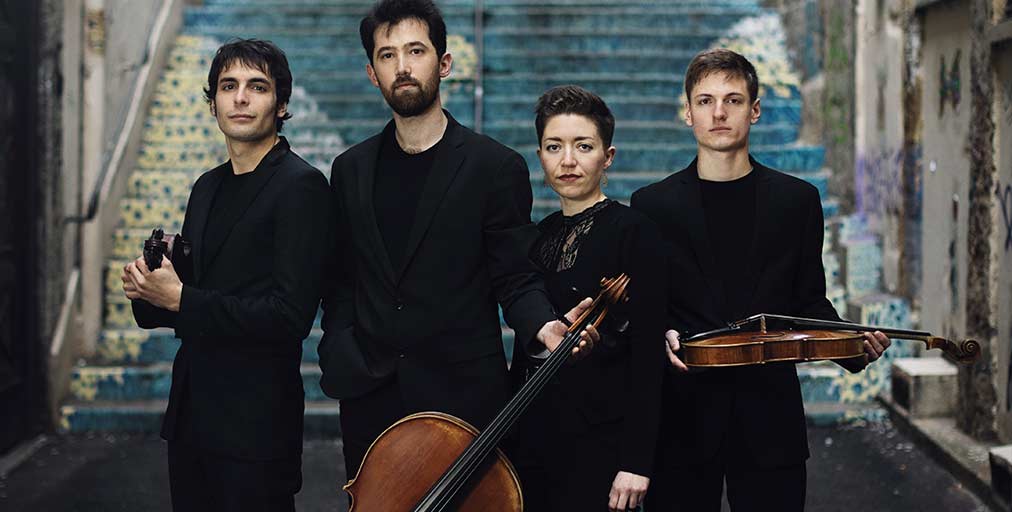 The quartet has shared the stage with renowned artists such as Anne Gastinel, Dana Ciocarlie, Jean-François Heisser, Marie-Josèphe Jude, Jean-Marc Phillips-Varjabédian, Vincent Segal, Yovan Markovitch. It often participates in mediation and social activities and collaborates with the international association Musethica. It has been a member of the Villecroze Academy, Musique à Flaine, the Maurice Ravel Academy and the ProQuartet training programme.